Date/Time
Date(s) - 22/08/2022
6:00 pm - 8:00 pm
Categories No Categories
Speaker:
Nicolas Hébert, Geologist
Topic/presentation:
Energy and climate through the lens of a geologist
Date/Time:
Monday 22 August 2022, 6-8 pm
Venue:
ChemCentre, Curtin University, CoR Manning Rd and Townsing Dr, Bentley 6102 Western Australia
Please register your interest via the link https://www.eventbrite.com.au/e/talk-energy-through-the-lens-of-the-geologist-tickets-380281230397
Abstract
Energy has become so present in every aspect of our life that we nearly forgot what it is and where it comes from.
More than just a bill, counting energy enables tracking a physical quantity linked to transformation of the world around us.
Machines and engines have enabled mankind anything from free time to (among others things) undertake PhDs in mineralogy, attend conferences, travel across long distances on field trips to collect specimens from bigger holes in the ground than what our ancestors were capable of digging.
Yet, our current use of fossil energy isn't without negative impact, and questions about the depletion of finite stock of resources, and subsequent peaks need answering.
Exploring Kaya's equation, this talk invites attendees to reflect on the energetic, demographic, economic growth we've been living in to draw conclusions on the future of (the mineralogical) society, as the Earth's diameter remains the same.
This 2-hours journey across different mining practices starts by assessing the energy profile of a WA fossicker, benchmarking against artisanal small-scale miners in gem-producing areas, to eventually provide answers about the future of prospecting and mineral collecting in 2050.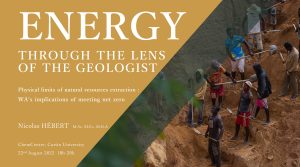 About the speaker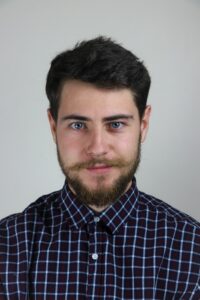 Nicolas Hebert is a geologist/engineer and mineral enthusiast. He graduated from Ecole Nationale Supérieure de Géologie, Nancy, France in 2018. Based in Perth, Western Australia, he presently works at the Dalgaranga gold mine, where his work encompasses exploration, resource development and production.
Previous presentations include "The Mineralogy of the gem-bearing marbles of SE-Asia : a journey from Luc Yen to Mogok" where he discussed social, financial, legal logistical issues faced while undertaking field expeditions in artisanal gem-mining areas, before exploring the reasons behind similar mineralogy in those two locales, and "Blue spinels" (at the 2020 Mineralogical Societies of Australasia Joint Seminar).
Even though primarily interested in mineral collecting in the Vosges and Alpes massifs, he took part in paleontological collecting expeditions in Svalbard and Wyoming respectively for MHNF (Fribourg, Switzerland), and the Senckenberg Museum (Germany). A significant part of Nicolas' collection is focused on minerals from Mogok's region and marble-hosted mineral associations.