The Society maintains a library of reference material that includes books, journals and magazines. The material is available to all members to borrow free of charge — NB postage costs apply for country or interstate members.
A catalogue is available for members to view available items. The items can be viewed and borrowed during the general meetings of the Society that are held at the WA Lapidary Club, or by contacting the Society's Librarian. Members can also access recent digital versions of The Mineralogical Record.
The quarterly MinSocWA Newsletters are available online.
Featured books
Mineral collecting
Our library has two books specifically devoted to mineral collecting: The History of Mineral Collecting 1530-1799 and About Mineral Collecting, both published by the Mineralogical Record.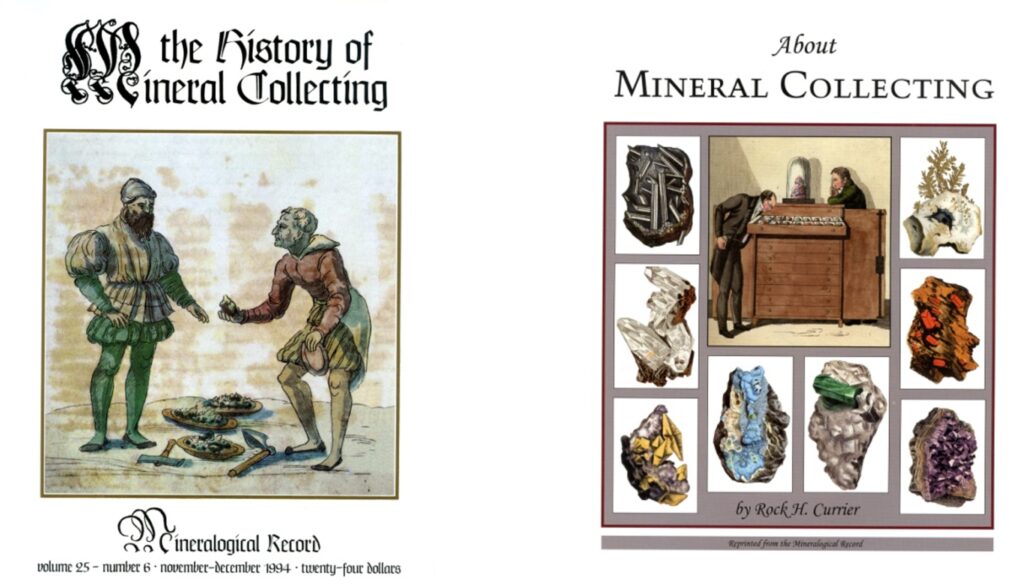 The books document a fascinating insight into ancient mineral collecting and the famous mineral collections of individuals and institutions. They are illustrated with diagrams of many important and beautiful specimens and also portraits of the more famous collectors.
So why do people collect minerals? Perhaps for many of us, it starts as a small child with a fascination for natural things. These days' minerals, for a child, are relatively easy to obtain from family field trips, auctions, lapidary club exhibitions, mineral fairs etc. Serious collectors build up the quality and quantity of their collections by buying and selling specimens and swapping obsolete specimens for ones more relevant to their collection.
Collections can be focused on a particular mineral or suite of minerals, a mine or mining district, a country of origin, colour or the collection might just be undisciplined, with minerals from all over the world.
Specimens can cost as little as a few dollars to millions, depending on size, quality and rarity. The price rises exponentially with each of these parameters.
Over the years, collections are accumulated, dispersed, sold, gifted and some are even abandoned or destroyed. They are rarely, if ever static. The best minerals end up with institutions such as museums and wealthy individuals. Many collections are available for public or private viewing.
Both books are available on loan from the Mineralogical Society of Western Australia Library.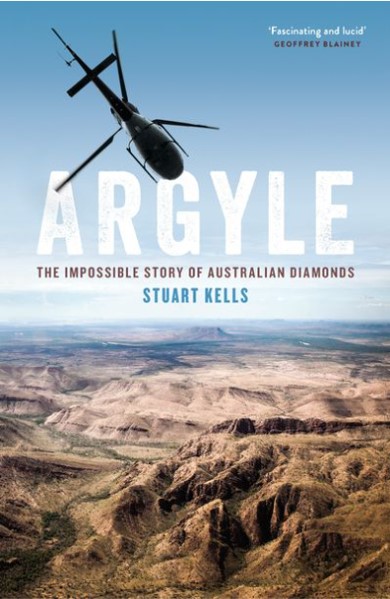 Argyle — the impossible story of Australian diamonds
A fascinating story of the ups and downs of exploration for diamonds in the remote Kimberley region of Western Australia. Find out how the famed Argyle pink diamonds were discovered and read about the mine's impact and legacy. The book is authored by historian Stuart Kells, twice winner of the Ashurst Business Literature Prize and shortlisted for the Prime Minister's Literary Award.
The book was published on 2 March 2021 by Melbourne University Press. Published as a soft-cover paperback, the book is 320 pages long, and includes detailed notes and a central section with many colour photographs showing illustrating moments from the exploration and mining stages.
You can also read more about the Kimberley diamonds in the MinSocWA May Newsletter – see report on Mike's Freeman talk 'Ellendale: The 'Fancy Yellow' diamond story'.
Perth Joint Mineralogical Seminar — Programs and Reports