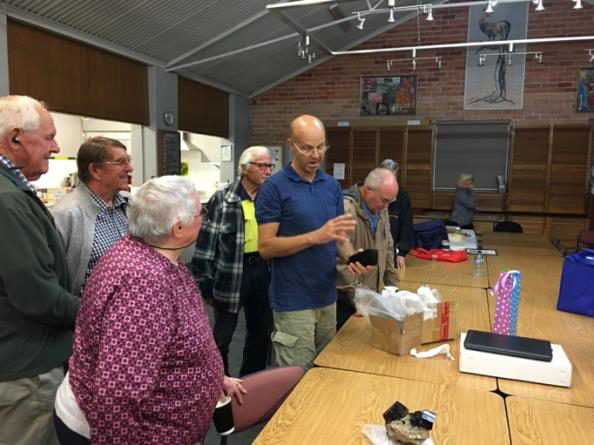 General meetings are held on the 2nd Wednesday of odd-numbered months (i.e. January, March, May, July, September and November). Meetings commence at 7.30pm, with the venue usually open by 6.30pm for socialising and Show & Tell. They include a brief discussion of Society's matters and a talk presented by guest speakers or Society's members on topics ranging from technical to non-technical. Coffee, tea and refreshments are served.
Visitors are most welcome to attend and entry is free. All attendees receive a raffle ticket on entry, and a mineral specimen or item of related interest is drawn at the end of the formal proceedings.
The Society's meetings are suitable for complete beginners to experts and provide a point of contact between amateurs and mineralogy professionals or those engaged in the broader Earth sciences. Members and guests are encouraged to bring along any specimens that they might want identified or that they feel might be of interest, with no need for these to be related to the topic of the evening's talk. The Society's binocular and polarizing microscopes are generally available to assist with identification or to view specimens.
The evenings usually also offer the opportunity to purchase the latest Australian Journal of Mineralogy (or back issues) and peruse publications brought along by members or available in the Society's library.
The Annual General Meeting (AGM) of the Society is held within three months from the end of the financial year, i.e. between July and September each year.
Unless otherwise stated, we meet at the clubrooms of the:
31-35 Gladstone Road
Rivervale, WA 6103
AUSTRALIA
Location map
---
Links
A few of our talks have been recorded and can be viewed on the MinSocWA YouTube channel.
Descriptions and highlights of past talks are recorded in our Newsletters.