Date/Time
Date(s) - 10/05/2023
7:30 pm - 8:30 pm
Categories No Categories
Speaker:
Aubin Cosson, Geologist
Topic/presentation:
France's fluorites
Date/Time:
Wednesday 10 May 2023, 7.30pm
(venue opens at 6.30pm for socialising)
Venue:
WA Lapidary and Rock Hunting Club Inc.
31 Gladstone Road, Rivervale
Abstract
France is well known for its wine and culture, but also for its minerals, especially fluorites. 3 main districts yield the most significant mineralization: Var, Tarn, and Auvergne regions. The latter will be the subject of the talk. A complex geological history generated numerous occurrences of fluorite, offering different shapes, various colours and rich mineral associations.
Focus will be given to the Saint Jacques d'Ambur area, with a closer look to the "La Barre" mine; very well known for having produced highly recognizable blue fluorites from the 50's to the 80's. Some recent activities (taking place since 2019) produced some new kinds of specimens: tricolour cubes and blue with a yellow core for the most known.
The ACKAM team was created in 2019, gathering 4 enthusiastic collectors joining efforts to prospect and start a mineral business together. This presentation will cover the geological and mining history of the region, with a focus on the "La Barre" area.  The extent of the team's involvement in the recent discoveries of these last few years will be discussed. For the adventurous members turning 19 at the time, eager to start collecting in a more serious manner, extracting some world-class fluorite was definitely not an easy task. The social aspect of the discoveries and personal stories will be shared.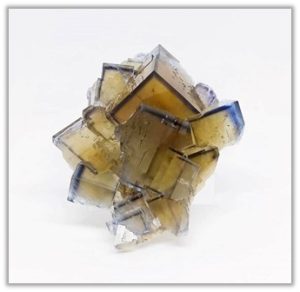 About the speaker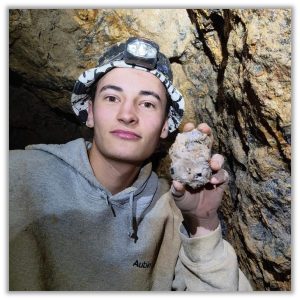 Aubin Cosson is a MSc Student in Petroleum geology engineering and marine geology, in his final year at UWA. His research focuses on isolated carbonates platforms and associated gravity deposits associated. Known in France for his mineralogical activities, especially on fluorite, he mainly focused his works these last years on a locality in Auvergne: La Barre. 
He also was involved in the organization of Beauvais' minerals show from 2019 to 2022, with a significant personal display case in the exhibition area. He was part of the Young Mineral Collector moderator team for a time; he also set up the YMC's case for 2022's Sainte Marie aux Mines show.