Date/Time
Date(s) - 08/02/2023
7:00 pm - 9:00 pm
Categories No Categories
Activity – Sue Koepke
What to look out for in the mineral & fossil market – duds, fakes and welcome surprises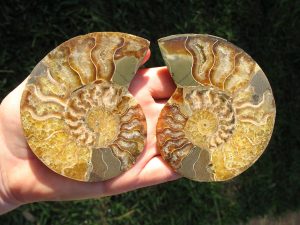 Wednesday 8 February 2023, 7.00 pm to 9.00 pm
WA Lapidary and Rock Hunting Club Inc.
31 Gladstone Road, Rivervale
Details
Sue Koepke is a long-time crystal & mineral collector and trader (West Australian Crystals & Minerals | Perth WA | Facebook) and has an incredible knowledge of the mineral market in Australia and beyond. On this evening, she will share some of her knowledge on what to look out for when purchasing a mineral or fossil specimen. Attendees are encouraged to bring specimens they may have questions/doubts about for Sue and other members to look at – this is designed to be an interactive activity to share Sue's expertise and that of MinSocWA members who will be attending. A UV lamp and the Society's Leica stereomicroscope will be available.
Entrance is free and visitors are welcome. Coffee/tea and biscuits will be available on the evening.
Sue Koepke is a past President of MinSocWA, and was the Society's Secretary for many years.
Image courtesy of Sue Koepke – Ammonite (cleoniceras?) fossilised shell filled with golden calcite and tan aragonite – two matching polished halves
the outside is iridescent with red colour flashes